hello, I have filled the balance, but why hasn't my balance increased?
When I checked your account, I can see a transaction you made recently. Is it not still solved?
Not yet. I still didn't receive the credit when i top up on 27-10-2019.
Then which payment method did you use? If you get any receipt from payment company, could you please show me your transaction ID? I think the transaction ID will be a part of email receipt.
I use paymentwall, and pay with unipin wallet.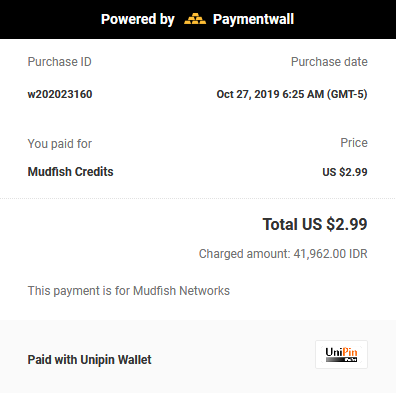 When I checked this Purchase ID (w202023160), I can see that it's refunded. Could you please check it again? For this case, please allow 3 ~ 5 business days to be refunded by PG (Payment Gateway) company.
but before that I didn't ask for a refund. Okay, i'll waiting for a weeks.
Here is a update from PG (Payment Gateway).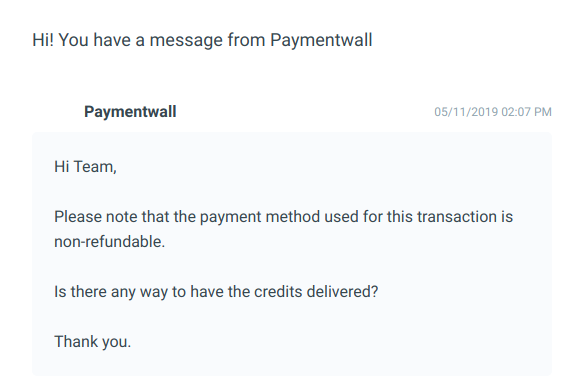 It seems your transaction is non-refundable from Paymentwall.

So for this case it seems you need to create a paypal invoice and send it to chloe0528@nate.com address. For details about how to create it, please check How do I create and send an invoice? link. Sorry for this inconvenience.
Can you pay directly to my account?
Unfortunately we're only offering the refund via Paypal Invoice because direct transfer via Bank charges a lot of international transaction fee (normally more than $10 USD bucks).

I have create a paypal invoice, please check your email

I'd paid for your invoice. Please check and let me know if there's any issues.
Thank you, but why you refund on 2019-11-01, not 2019-10-27?
I think you paid at 2019-10-27 but in a view of mudfish we got a payment notification at 2019-11-01 from Paymentwall. That's a reason why in mudfish it shows as 2019-11-01.

yes, I paid twice in 2019-10-27 and 2019-11-01.
Ooops? Really? Because mudfish didn't get a pingback request from Paymentwall for 2019-10-27 transaction, we can't trace your payment information. Did you try to contact to Paymentwall too?
So I think the transaction made at 2019-11-01 is refunded now by Mudfish. But for the transaction at 2019-10-27 I think you should contact to Paymentwall because we can't find your transaction. Sorry for this inconvenience.