@tibintom95 Could you please tell me your exact mudfish ID? I'd searched with tibintom95 but it's not found.
@tibintom95 Okay. I found your account and I can see 'GPA.3339-5202-7332-47034' is your last payment ID via Google In-App Purchase made at 2021-05-20 15:01:34 UTC.
Could you please check your receipt to know the exact order ID? It looks it was handled properly.
That was at 15:01 UTC, it was done since the last recharge was not successful, this time mudfish credited correctly.
But the mentioned recharge on screenshot was done at 12:30 UTC, you can crosscheck the time.
Okay I see. When I checked the screenshot, the payment was at '20 May 2021 6:01 PM'. After the payment, I expect you get the receipt from Google Play.
Could you please tell me your payment order ID for this payment? Please check your email inbox and find the order ID. Normally it's starting with GPA.XXXX-XXXX…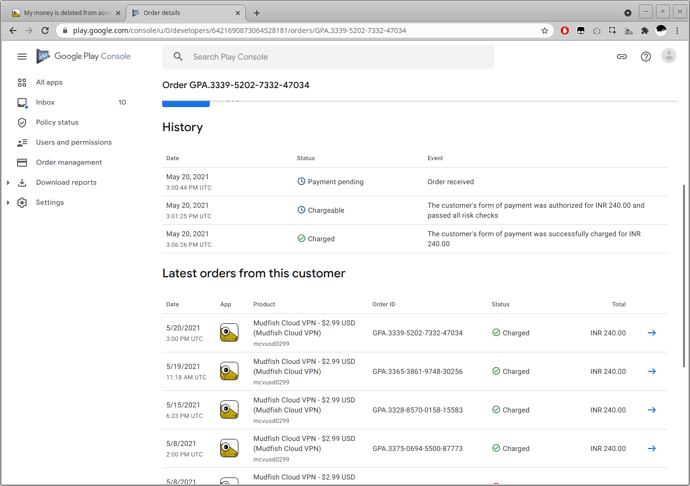 When I checked your payment history from Google Play Console, it seems it was your last payment. Please check above screenshot.
@hashim9387 Is it still same? When I checked your payment status, it seems it's already solved. Please let me know if it's still not solved.
I did a mudfish recharge on 31/05/2021
For 240rs.
The money was debited from my account but the credits is not reflecting in my mudfish account.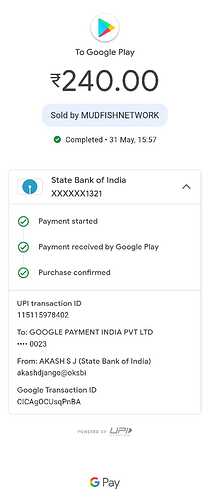 This is my payment from Gpay.
Please resolve my issue ASAP
Thank you
@Juvalrz Sorry for this inconvenience. Could you please show me your order ID which got from Google Play Store? Please check your email inbox and let me know the order ID. Normally the orderID looks like GPA.XXXX.XXXX.XXXX.XXXX format.
There was no order ID given.
I logged into mudfish and clicked " buy credit" and it gave me the option to pay with google pay. And i had clicked that. And the transaction happened normally as it does. But there was no email sent to me regarding it.
There is the date and time of the transaction as well as the transaction ID and google transaction ID.
Could you please reply fast maam ? and solve this issue ?
It's nearly been a week.
Please don't add new comments after creating a topic because it'll be bumped and reset your priority to get answers.
You didn't get any email receipts from Google Play Store? This is very weird. Every google pay makes a email for each receipts. So I'm not sure which email address you used but please check it again.
I understand what you're pointing. But please note that this's a customer's view. In a view of seller, we need one of order ID (GPA.XXXX.XXXX.XXXX.XXXX format) or email (used to google play).
However could you confirm that you paid it in Mudfish app for Android?
akashdjango@gmail.com
This is the email used for the transaction on 31/05/2021. Yes the transaction was done on mudfish in an android.
@Juvalrz Please check below information. When I checked it with your email, it says the payment was canceled.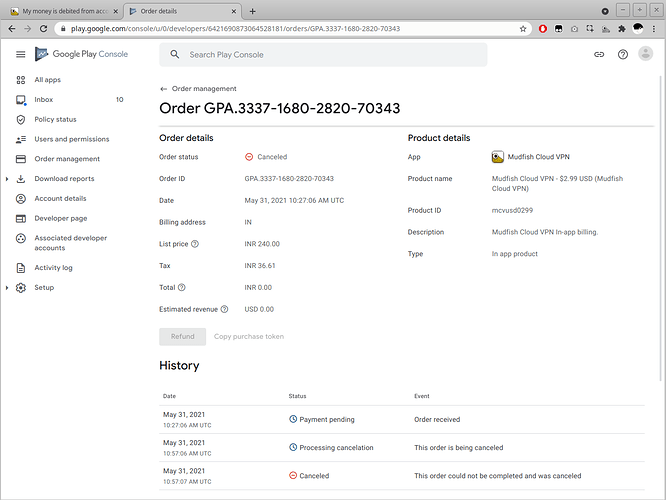 yes maybe thats why it didnt get credited.
But the money was deducted and the credits didnt show.
@Juvalrz Thank you for your understanding. As you might guess, at this moment there's nothing I can help you regarding your payment because I can't do any action allowed at Google Play Console.

If it's still not solved within few business days, please note your order ID GPA.3337-1680-2820-70343 and contact to the google or PG (Payment Gateway) you used.