Please allow 3 ~ 5 business days to be handled by Paymentwall. At least it's refunded by me and Paymentwall notified. I didn't get any problem report from Paymentwall for your transaction. So I think you should wait little bit more.
thank you very much! Where should I expect the refund to go to? i used razer gold O.o Have a nice day sir!
Frankly I have no idea how razer gold works. So I guess that Paymentwall notifies to me if it's non refundable for your case. So please allow some times to Paymentwall.

still no refunds received

If you have any concern regarding to your payment, did you try to contact to Paymentwall too? At least it's refunded by Mudfish so I think they're best one you can try to reach to ask your question how it's being handled.

Yes, I did. They told me payments via razer gold is non-refundable but they still accepted the refund. Is it possible to just credit it again to my mudfish account? Paymentwall's support has a thick skull, they already knew that razer gold isn't non refundable but still refunded it O.o What a brain

Sorry for this belated response.

I see. If then please send the paypal invoice to chloe0528@nate.com email after checking How do I create and send an invoice? link.
If it's non-refundable, I can handle it for you if you're okay with Paypal invoice refund.
Oh hey there, i didn't used paypal only razer gold. If you need the razer gold receipt.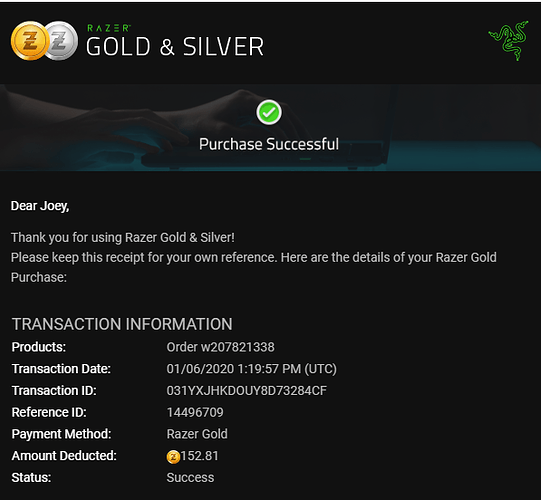 I would like to get the mudfish credits again, I wanna use mudfish now for albion online.
Okay. I'd reset your mudfish credits. So please check it again.